I should really have taken more notice when I was a brownie - many moons ago - lol. The one day I left the house without my camera, is the one day I really needed it.
After going around the City getting James new school uniform - our last stop was to get some cricket tickets for Jon & James. so a quick stop off at Edgbaston Cricket Ground and low and behold the Indian & England cricket teams were training, not only did I not have my camera but I only had a scratty notebook and pen.
So we ended up buying a mini bat - noticed a few of the boys waiting had them - and I managed to get some snaps on my phone -
Not a good photo of one of Indian players.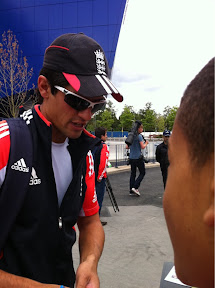 Managed to get Alastair Cooke and Kevin Peterson autographs.
tell you what, they are really gorgeous in person, and if I wasn't busy I would defo be at the cricket ground with J&J eyeing these hunks up - l mean watching the match ;-)
- Posted using BlogPress from my iPhone